1,000+ Tires Hit The Road During Tire Round-Up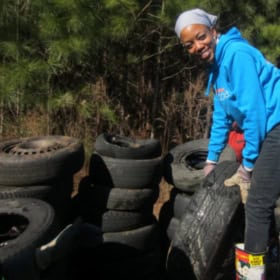 During one powerful day of volunteer and community support over 1000 illegally dumped tires were wrestled out of the mud and undergrowth throughout the Arabia Mountain National Heritage Area. From the City of Lithonia to the Monastery of the Holy Spirit no discarded tire was safe!
This event was a partnership between the Arabia Mountain Heritage Area Alliance and the Georgia Conservancy to remove ugly and unwanted scrap tires. As well as being an eyesore, tires house mosquito larvae and clog natural waterways.
Volunteers worked at the Davidson-Arabia Mountain Nature Preserve, City of Lithonia, Flat Rock community, Monastery of the Holy Spirit, and Panola Mountain State Park. Tires were removed from city streets, gullies, and from the woodlands of the parks. People living in the AMNHA also brought in tires and added them to the rapidly growing piles. From tiny go-cart wheels to giant tractor trailer tires every item collected was recycled by Liberty Tire.
Read more about this event from the Georgia Conservancy or the Atlanta Community ToolBank and check out the gallery below for some messy and fun pictures of the event.