Get ready to discover fantastic sites and fabulous history in the Arabia Mountain National Heritage Area!
Explore, Learn, Protect
Take a journey through a historic monastery, get a closer look at small-yet-mighty plants, and discover a community's roots as you earn your Junior Ranger Badge. Discover the Arabia Mountain National Heritage Area by becoming a Junior Ranger. Activities will guide you as you learn about a living landscape where life is built on stone. 
The program is geared toward kids ages 8-12, but younger children can complete activities with help. Activities can be completed in a day or over several visits. 
Join Our Junior Ranger Ranks
It's easy to become an Arabia Mountain Junior Ranger with our Junior Ranger Activity Journal. From the mighty monadnocks of Arabia and Panola Mountains to the serene setting of the Monastery of the Holy Spirit, the journal will guide you through activities across the Arabia Mountain National Heritage Area. Pick up a Junior Ranger Activity Journal at:
You can also email us to arrange a pickup or download the journal.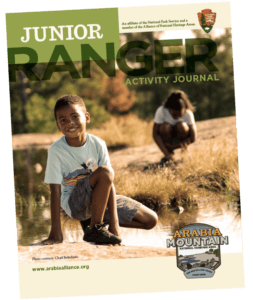 Take the Pledge
When you've completed the activities, return to one of our partner sites to take the pledge, receive your badge, and collect a special souvenir.
Please note availability is subject to operating hours, and there is a $5 parking fee at Panola Mountain State Park unless you have a Georgia State Parks Pass. You can also take the pledge online.