Arabia Mountain Goes To Muscle Shoals NHA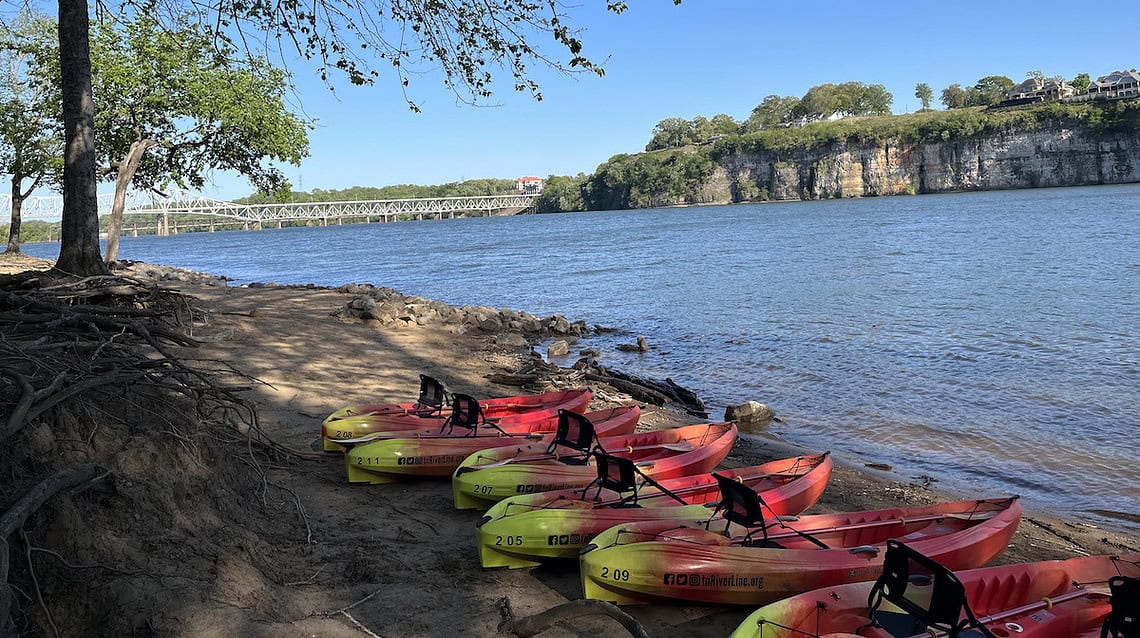 From April 17-20, NHAs from across the country met in Muscle Shoals NHA in northern Alabama for an annual Spring Meeting.
Alabama never looked so sweet! About 280 miles northwest of Arabia Mountain's granite outcrop, the Muscle Shoals National Heritage Area, which stretches across all of Northern Alabama, has tons to offer. Last week, NHA members from across the country gathered in Muscle Shoals and Florence for a four-day spring conference designed to work hard and play even harder by showing off the many natural, historical and cultural wonders of Alabama's first heritage area.
Day One – Recreation
The meeting kicked off with an oddly named NHA meeting tradition, an adrenaline-pumping recreational activity called the "Flying Monkey." (Named, apparently, after monkeys that were used in test trials for rockets.) This year's spring "Flying Monkey" was a heart-pounding hike down Cane Creek Canyon Nature Preserve, a 713-acre preserve with miles of hiking trails and primitive camping sites.
After that vigorous hike, Arabia Alliance members had just enough time to run back to the hotel and change before heading to dinner across the bluffs above the Tennessee River, a dramatic body of water that determined much of north Alabama's history. After stuffing our faces with delicious local fried chicken and coleslaw, NHA members kayaked on the Tennessee and/or rode bicycles along the riverfront in McFarland Park. It was a perfect day to get outside and soak in a little nature.
Day Two – History and Industry
The second day of the spring meeting was jam-packed with a vital history tied to the Singing River. (Local lore attributes the name to the Native Americans, but the story is wholly apocryphal.) Arabia Alliance members and other NHA-ers woke early to catch a bus tour of much of the Muscle Shoals NHA, which stretches across six counties in the Tennessee River basin. The original industry in the area included shipping, specifically a railway line to circumvent a great stretch of rapids in the Tennessee River that contained rocky shoals and an abundance of mussels. (No one knows exactly how "Mussel" became "Muscle.") The tour included quick visits in two traditional whistle-stop towns: Leighton, birthplace of "When A Man Loves A Woman" singer Percy Sledge, and Courtland, one of the oldest historic towns founded by settlers in North Alabama (where teams members took part in some fun hopscotch).
The final city on the bus tour was Decatur, one of Alabama's busiest inland ports, having shipped goods down the Singing River toward Florence for generations. NHA members learned about Decatur's rich Civil War, Industrial, and Civil Rights history. Decatur was the site for most trials for the Scottsboro Boys, eight Black young men convicted and sentenced to death on false charges of raping two white women aboard a Southern Railroad freight train in northern Alabama. The case led to three groundbreaking Supreme Court decisions on jury diversification and, gradually, to the exoneration of all those accused.
Day Three – Work!
Down to business! Day three began with a six-hour business meeting of the Alliance of National Heritage Areas (ANHA). Our Executive Director Revonda Cosby spoke as Chair of the Fundraising Committee; and Communications Manager Jeff Dingler, Co-Chair of the DE&I Committee, presented the idea of a new video series highlighting Justice, Equity, Diversity, and Inclusion (JEDI) in the heritage areas.
After the business meeting, Arabia Alliance members had several hours to tour some of the local attractions in Downtown Florence. We toured Alabama's only Frank Lloyd Wright building, a stunning one-story Usonian structure built in 1940 known as the Rosenbaum House.
Day Four – Native Heritage and Music
The Muscle Shoals NHA crew saved the most interesting sites for last. We began our day with a visit to the Florence Indian Mound Museum, where NHA members heard a panel discussion about the history of local indigenous people, the struggle over preserving their heritage, the Cherokee Trail of Tears, and the story of the large ceremonial (not burial) mound right beside the museum. After the discussion, the Arabia Alliance crew toured the museum and climbed atop the native mound which had been degraded through years of farming and neglect. The view atop revealed industry in every direction. The disrespect for this sacred site was palpable.
We left the Indian Mound Museum and saw what Muscle Shoals is perhaps most famous for: FAME Studios and Muscle Shoals Sound Studio, two recording studios with fascinating intertwined histories. Some of the most famous musicians from our time have recorded at these studios including Aretha Franklin, Wilson Pickett, Etta James, Allman Brothers Band, Rolling Stones, Elton John, Bob Dylan, Paul Simon, Demi Lovato, and Alabama native Jason Isbell. The list goes on and on and on.
Thank you to the entire Muscle Shoals NHA team! The Arabia Alliance crew left full of ideas and appreciation for another one of America's fascinating heritage areas.