Small Yet Mighty
Though they are small, the pollinators that buzz about our mighty monadnocks impact the lives of plants, animals and humans in major ways. Over 75% of the world's flowering plants (and over 30% of our crops) rely on pollinators like butterflies and bees, but these important creatures face real threats. Despite the challenges, there is good news. The Arabia Mountain National Heritage Area has joined National Heritage Areas across the country in Operation Pollination, an initiative aimed at protecting, enhancing, and restoring pollinator habitat in the country's National Heritage Areas. 
With our continuous expanse of protected green space and partners who are already doing conservation work, the AMNHA is uniquely positioned to help organize this effort in protecting these vital creatures. In January we joined forces with Monarchs Across Georgia, a committee with the Environmental Education Alliance of Georgia, to identify community groups who can help pollinators within the Arabia Mountain National Heritage Area. Not surprisingly, many organizations have stepped up by signing a pledge to support our pollinator resolution. We are excited to work with our partners and community to support pollinator habitat and create dynamic learning opportunities for the public.
Participating Partners and Community Members
Arabia Mountain High School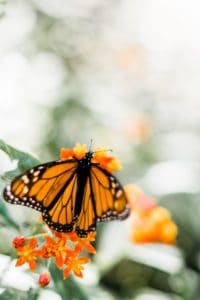 Atlanta Audubon Society
Austin Road Elementary
AWARE
City of Lithonia
City of Stonecrest
Conyers Garden Club
Davidson-Arabia Mountain Nature Preserve
Dunwoody Nature Center
Flat Rock Archives
General Ray Davis Middle School
Monarchs Across Georgia 
Monastery of the Holy Spirit
Murphey-Candler Elementary
Panola Mountain State Park
Project Monarch Health
Rock Springs Restorations
Rockdale Art Farm
Stoneview Elementary
Get Involved!
If you're a part of an organization that wants to help, please contact us.
If you're a concerned citizen, there are lots of ways you can help too. You can volunteer with the organizations listed above or you can plant pollinator-friendly plants in your garden just to name a few. Here are some resources to get you started. 
Greater Atlanta Pollinator Partnership
Kids Gardening – Ten Tips to Help Pollinators
Million Pollinator Garden Challenge
Monarch Joint Venture
Pollinator Partnership
Ten Ways to Save Pollinators
US Fish & Wildlife's Tips to Help Pollinators
Xerces Society